As a component of the exhibition, A Chicken in Every Pot and Affordable Art in Every Home, group curated by Dr. Slipp's Spring 2021 Museum Studies class, student were assigned two prints each. They researched the artworks and wrote catalogue entries and labels for adults and children. Sticking to a tight word count, students produced different kinds of writing for different audiences.
The texts below were authored by AUM student Jessica Roy
Robert von Newman
(German, 1888-1976)
Beaching the Dory, 1954
Lithograph, 9.5 x 13.75 inches
Label for Adults – Printmaker Robert von Newman shows his mastery of his chosen artform in Beaching the Dory. We can see how the fishermen struggle with the water to bring their boat — a dory — into shore. Von Newman demonstrates his ability to render textures in the folds and wrinkles of the fishermen's clothing, as well as in the texture of the water — from the calmness of it in the left bottom corner to the choppiness in the background. 
Label for Kids – Beaching the Dory shows three fishermen coming into shore after being out on the water catching fish. It was made in a technique known as a Lithograph. Can you see the fish in the boat? Why do you think it takes all three of the fishermen to pull it into shore?
Catalogue entry – Born in 1888 in Rostock, Germany, Robert von Newman studied art at the Vereinigten Staatsschulen für freie und angewandte Kunst (United State Schools for Fine and Applied Art) in Berlin from 1910 to 1914. During WWI, von Newman was in the German Infantry. After the war he taught in Berlin before moving to the US in 1926. Settling in Milwaukee, Wisconsin, Von Newman taught at the Layton School of Art in 1929 and 1930 and at the Wisconsin State Teachers College, where he was a faculty member from 1930 to 1959.
Like the American Regionalist work of the 1930s and 1940s, Robert von Neumann's drawings, paintings, pastels, etchings, mezzotints, and lithographs illustrated the virtues of the common man hard at work. He is best known for his shoreline scenes filled with bulky and heroic fishermen like in his Beaching the Dory from 1954.
Sources Consulted
"Robert von Newman," Gallery of Wisconsin Art, website.
"Robert von Newman," http://www.worthpoint.com/worthopedia/Robert-von-neumann-beaching-dory-1954-1851149940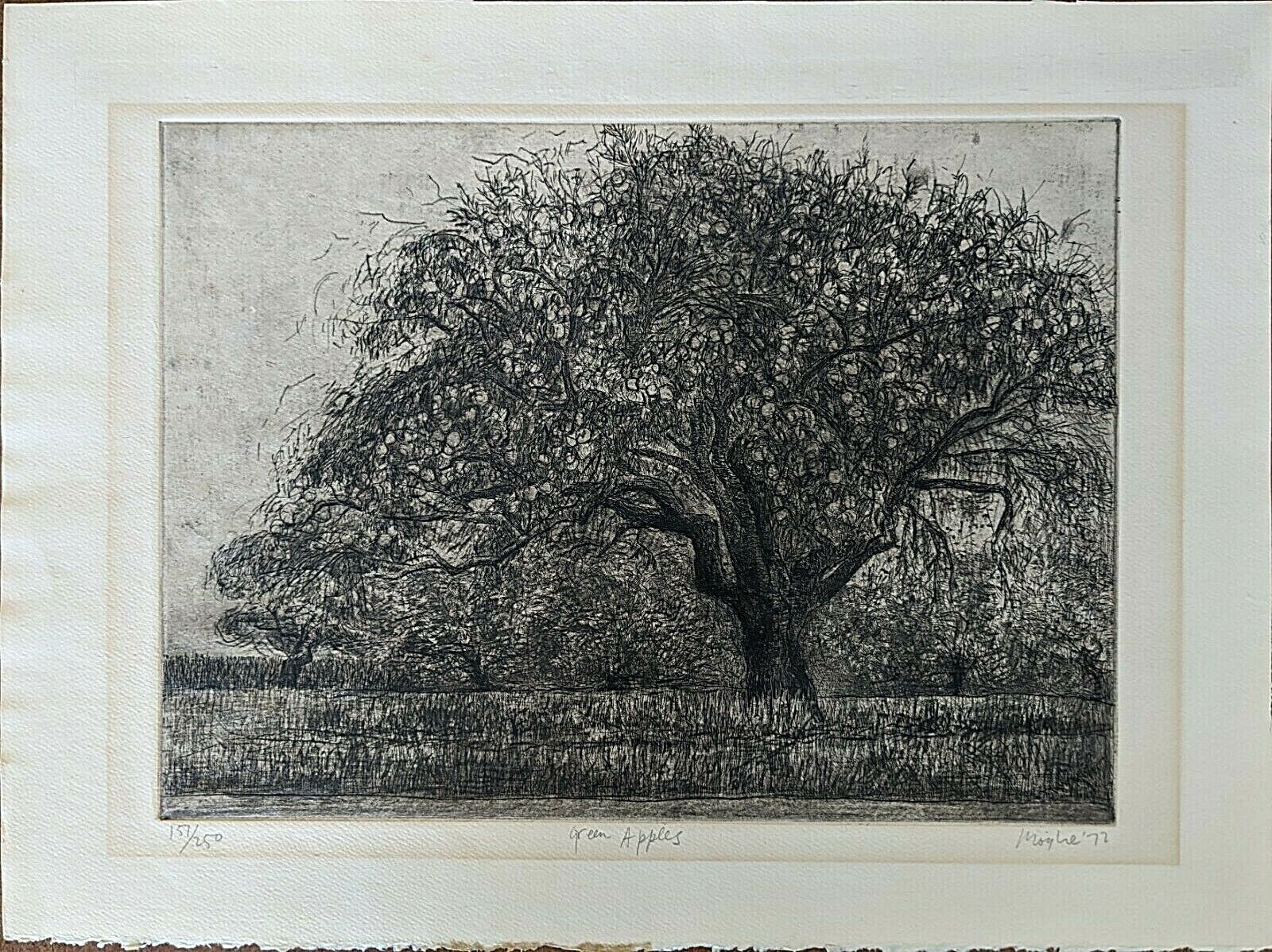 Moishe Smith (American, 1929-1993)
Green Apples, 1973
Etching, 8.75 x 12 inches
Label for Adults – Printmaker Moishe Smith shows his mastery of his chosen artform in Green Apples with his ability to render texture and dimension — note the boldness of the apple tree in the foreground contrasted with the denseness of the tall grass and the background. The viewer is left with the sense that this landscape is an ideal spot that has not been blemished by human hands.   
Label for Kids – Green Apples shows a giant apple tree in the foreground of the picture with more trees behind it. It was made in a technique known as Etching. Can you see all its apples? Why do you think that the artist named it Green Apples if it is a black and white picture?
Catalogue entry – Moishe Smith was born in 1929 in Chicago, Illinois and died in 1993 in Logan, Utah. Smith started his learning at the Carnegie Institute of Technology in 1946 and 1947, then he went to Wayne State University in 1947 and 1948. After that, he moved on to Skowhegan School of Art in 1949 and 1950.
Smith received his B.A. in 1950 from The New School, his M.F.A. in 1953 and his M.F. in 1955 from The University of Iowa. From 1959 through 1961 Smith studied at the Academia of Florence and privately with Giorgio Morandi. For most of the time from 1955 through 1977, Smith worked as a teacher in Illinois, Wisconsin, Ohio, Iowa, Utah, and one summer in Calgary, Canada.
Moishe Smith is most famous for his romantic city views and his focus on landscape, such as his Green Apples from 1973.
Sources Consulted
"Moishe Smith," https://wisconsinart.org/archives/artist/moishe-smith/profile-8541.aspx
"Moishe Smith," https://www.nga.gov/collection/artist-info.3092.html?artobj_artistId=3092&pageNumber=1#biography