As a component of the exhibition, A Chicken in Every Pot and Affordable Art in Every Home, group curated by Dr. Slipp's Spring 2021 Museum Studies class, student were assigned two prints each. They researched the artworks and wrote catalogue entries and labels for adults and children. Sticking to a tight word count, students produced different kinds of writing for different audiences.
The texts below were authored by AUM student Ciera Rogers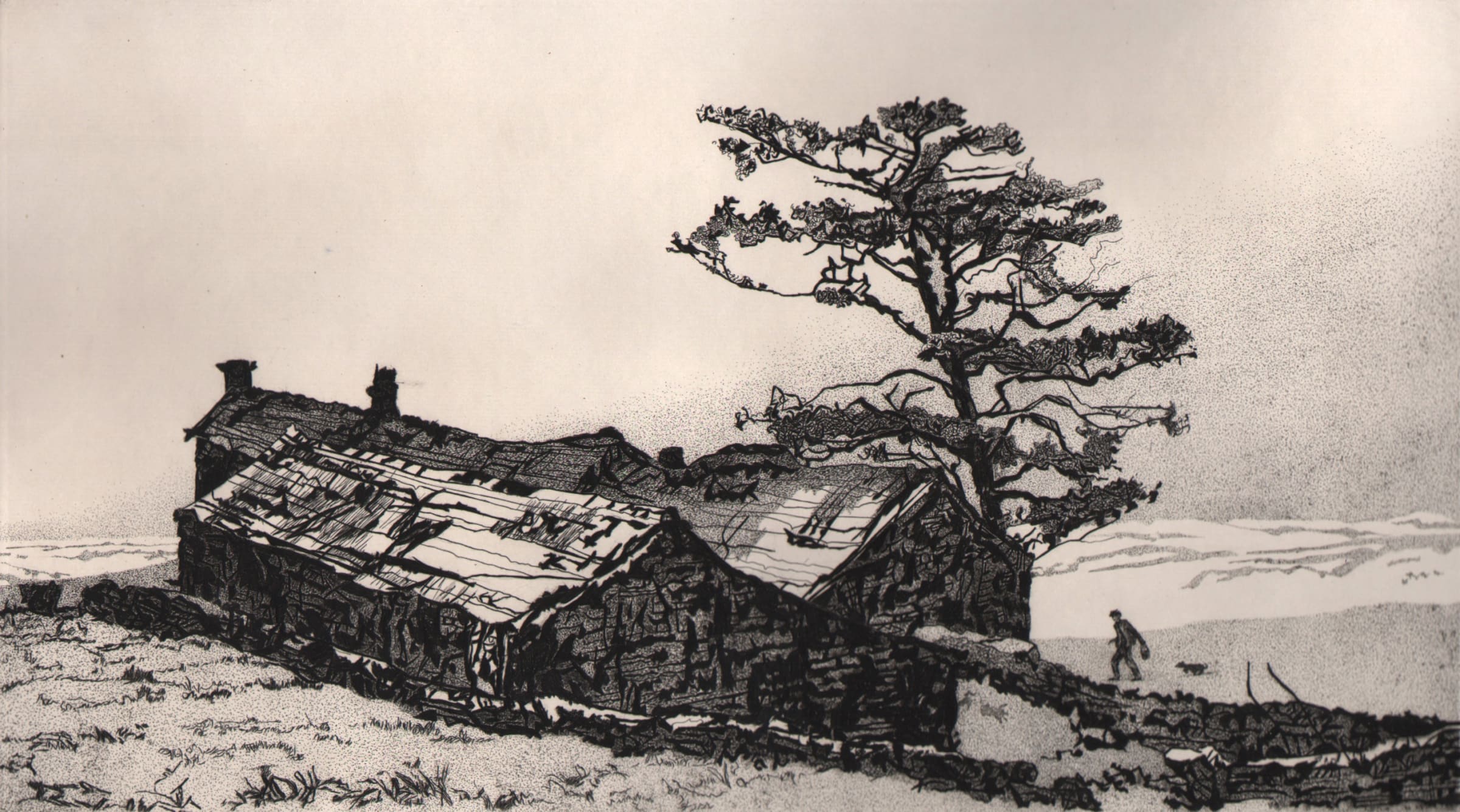 Norma Gloria Morgan
(American, 1928-2017)
Moor Lodge, 1954 Engraving, 7.75 x 23.625 inches
Label for Adults – Gaining recognition for her talent of engraving and graphics, the CT-native received a fellowship and traveled to England where she explored the moors and represented her appreciation of the barren landscapes in her engravings. Moor Lodge showcases Morgan's attentiveness to the delicate balance between light and shadow, depth and shallowness, through the black and white depiction of a secluded wooden lodge centered on a snowy landscape.
Label for Kids –
Moor Lodge shows a person with a dog walking along a snowy landscape towards a wooden lodge. What adventure do you think the person and dog have just returned from? Can you feel the cool, crisp air as they walk?
"Moor" – Open and often uninhabited land
"Lodge" – A form of shelter, usually near wilderness
Catalogue entry – Born in New Haven, Connecticut in 1928, Norma Morgan showed interest in the arts beginning at a young age when she painted over mildew tainted flowers on wallpaper. As a teen, Morgan furthered her artistic talent through a painting on her classroom wall and later through her celebrated still life painting Reflections which depicted silver objects alongside flowers on an antique cloth.
As a young adult, Morgan studied on scholarship for two years at the Art Students League, and privately with Hans Hoffman and Stanley Hayter who taught her engraving. Studying in England, Morgan became known for her portrayal of the wintery, moor landscapes throughout Great Britain.
Being African American, Morgan was often asked, "Where is the blackness in her work?" to which she responded, she "did what I could in my own way." Her depictions of "inhospitable, often turbulent" landscapes are her way of portraying "the struggle of man and nature."
Sources Consulted
Norma Morgan, https://www.nga.gov/collection/artist-info.5026.html
Sandra Lewis Smith, "Norma Morgan: A Matter of Balance," Black American Literature Forum, vol. 19, no. 1 (1985), pp. 34–35.
"Norma Morgan," Dolan Maxwell, https://dolanmaxwell.com/artists/106-norma-morgan/works/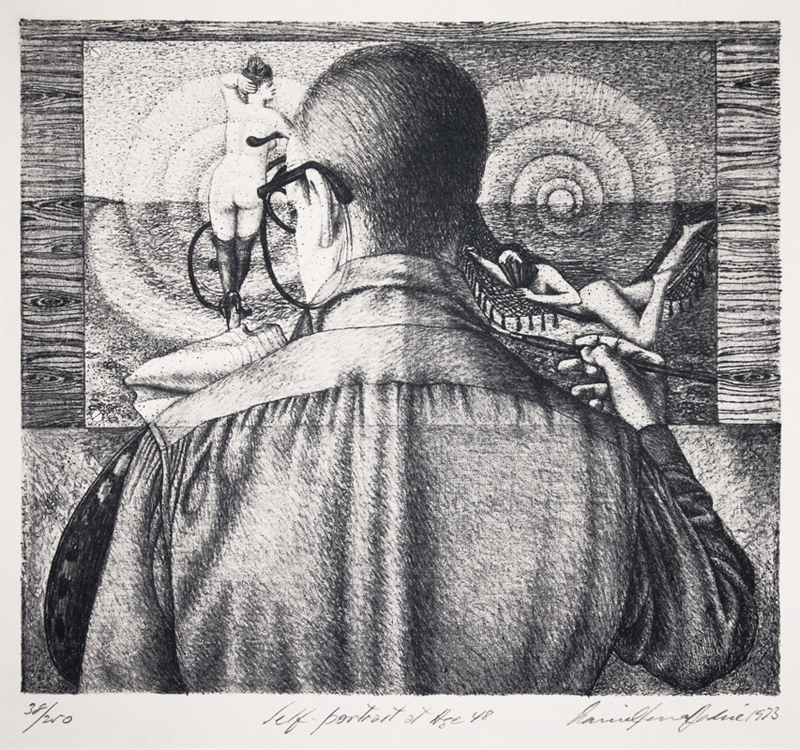 Daniel Serra-Badue (Cuban 1914-1996)
Self Portrait at Age 48, 1973
Lithograph, 9 x 10 inches
Label for Adults – Surrealist artist Daniel Serra-Badue created works of art that transport the viewer to familiar yet alien worlds. In Self-Portrait at Age 48, a reflective Serra-Badue depicts himself painting two nude women in an open field. One faces away from Serra-Badue, head turned, an arm raised behind her head. The other faces Serra-Badue, a fan raised to her face as she rests on a hammock. Serra-Badue's strokes blend between the image of himself and the painting.
Label for Kids – In this image, Daniel Serra-Badue creates an image of himself painting two women in an open field. Notice how the image of the two ladies is split between light and dark. Do you see any areas where the different subjects blend together? What do you think the message behind this piece is?
Catalogue entry – Referred to by many as "The Godfather of Cuban Art in Exile," Santiago De Cuba native Daniel Serra-Badue was born in 1914 and specialized in surrealist painting and graphics which challenge viewers to distinguish the line between imagination and reality.
Studying across Cuba, Europe, and the United States, Serra-Badue gained worldwide recognition for his lithographs, having participated in solo shows as well as exhibitions at The Whitney Museum, Sao Paulo Biennial, Brooklyn Museum Art School, and more.
Serra-Badue was one of the first to be awarded a fellowship from the Cintas Foundation, later becoming a board member and the first
Cuban-American to receive a fellowship from the Guggenheim.
Having experienced a variety of cultures worldwide, Serra-Badue made it a point to represent where he came from in his works, forging a connection between himself, the art, and the viewer.
In Self-Portrait as Age 48, we see a reflective Serra-Badue hypnotized by his work in progress, seeming to disappear into the lines he has created.
Sources Consulted
"Self Portrait at Age 48," Daniel Serra- Badue, Cintas Foundation.
https://www.cintasfoundation.org/fellows/visual-artists/366-daniel-serra-badue