As a component of the exhibition, A Chicken in Every Pot and Affordable Art in Every Home, group curated by Dr. Slipp's Spring 2021 Museum Studies class, student were assigned two prints each. They researched the artworks and wrote catalogue entries and labels for adults and children. Sticking to a tight word count, students produced different kinds of writing for different audiences.
The texts below were authored by AUM student Thurston Liptrot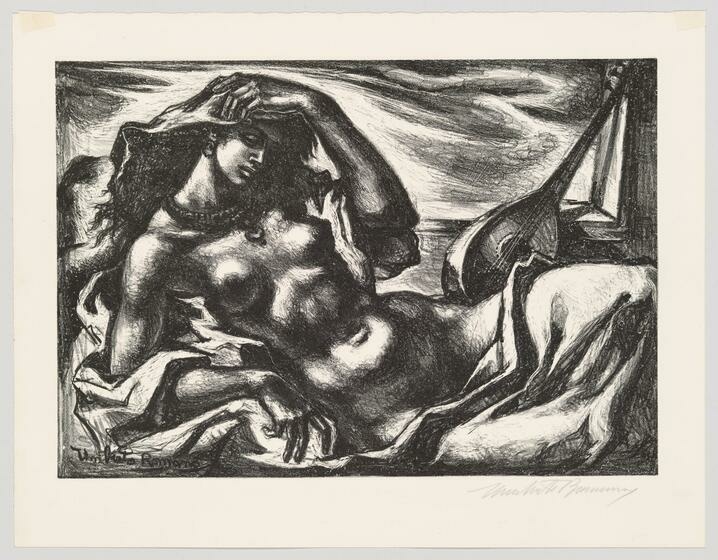 Umberto Romano (American, 1905-1984)
The Awakening, 1951
Lithograph, 9.5 x 13.75 inches
Label for Adults – Although Umberto Romano rarely worked in lithography, The Awakening surely makes an impression. He deifies the woman in nude, placing her in an almost surreal realm to show she is awakening alone. He also demands the audience's attention through the contrast and contours of her body. This encourages the viewer to question if the woman is truly the one waking up to their senses — or, rather, if the subject is the viewer's own awakening, as they acknowledge the godly beauty before them.
Label for Kids – The Awakening shows a nude woman resting peacefully by herself, alone. You can see the shadows and light on the contours of her body. What could she be contemplating? Where could she be resting? What and who is really awakening?
Catalogue entry – Umberto Romano, born in Bracigliano, Italy, had a natural affinity for the arts at a very young age. After immigrating to the U.S. before he was 9, he became a passionate painter, earning recognition from New York's National Academy of Design and even winning a Pulitzer Traveling Scholarship. Although he died in 1982, his pieces are still displayed all over the nation, from Massachusetts to the Smithsonian.
Romano focused heavily on classical styles and themes with his own modern twist. He indulged in religion, history, and mythology as the framework for his art.
You can see his style in The Awakening, where a beautiful, almost Middle Eastern woman in a reclining pose is deified and shown closely resembling historically famous artworks depicting nude female models. She doesn't hide herself or her culture. You can see this in the Hindu-influenced beads around her neck and the oud like instrument in the background. She is partially covered by a blanket, but peels it off her head to reveal her hair and face, symbolizing realization and awakening.
Sources Consulted
"About Umberto." Umberto Romano, 2020, http://www.urromanoart.com/about-umberto.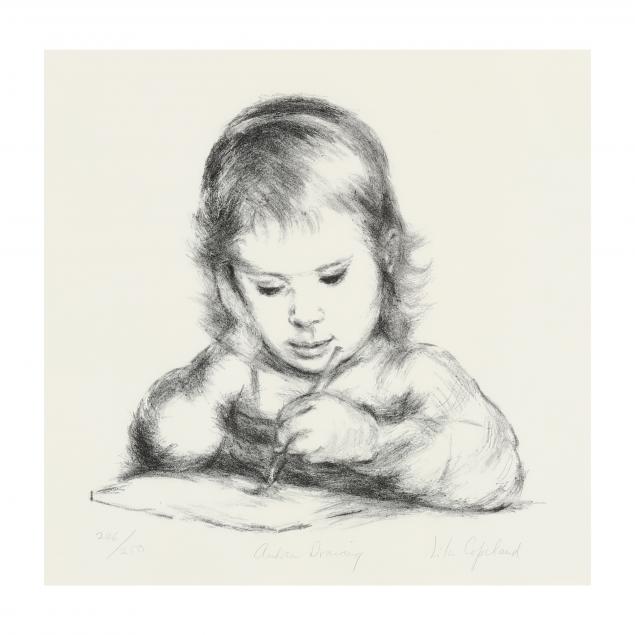 Lila Copeland (American, 1912-2001)
Andrea Drawing, 1973
Lithograph, 9.25 x 9 inches
Label for Adults – Lila Copeland was a New York-based artist closely associated with depictions of motherly bonds and children. In Andrea Drawing, Copeland focuses solely on the nature of children. The soft lines that Copeland uses to depict the child make the viewer feel welcomed and evokes a time in their own lives when they inhabited the realm of childhood. As such, the work encourages the audience to recall the past in a positive and progressive light, as the child scribbles peacefully alone.
Label for Kids – Andrea Drawing is a peaceful scene of a child quietly working alone. Take notice of the sketching child and how approachable they look at first glance. How does this piece make you feel? What do you think of when you hear the word "childish"?
Catalogue entry – Lila Copeland was born in Rochester. New York in 1912 and is often seen as a 'one man band", showcasing her work from The Flint Institute of Art and Golden Gate to the Art Institute of Chicago and Woodstock International Exposition to name a few.
After studying at the Art Students League in New York, she gravitated to depicting themes of motherhood and childhood. Her art features positive themes of youth and early development.
In Andrea Drawing, Copeland depicts a surreal realm that everyone might experience — an almost untouchable space of solitude that all children experience, one drawn from creativity and passion, and innocence and creation. Most adults lose touch with this imaginative space when we grow. They may find themselves pulling from it, however, whenever they find a spark or are in the zone.
Sources Consulted
"Lila Copeland." RoGallery, 2020, http://www.rogallery.com/artists/lila-copeland
"Lila Copeland." Smithsonian American Art Museum, 2020, americanart.si.edu/artist/lila-copeland-988