As a component of the exhibition, A Chicken in Every Pot and Affordable Art in Every Home, group curated by Dr. Slipp's Spring 2021 Museum Studies class, student were assigned two prints each. They researched the artworks and wrote catalogue entries and labels for adults and children. Sticking to a tight word count, students produced different kinds of writing for different audiences.
The texts below were authored by AUM student Danielle Riggs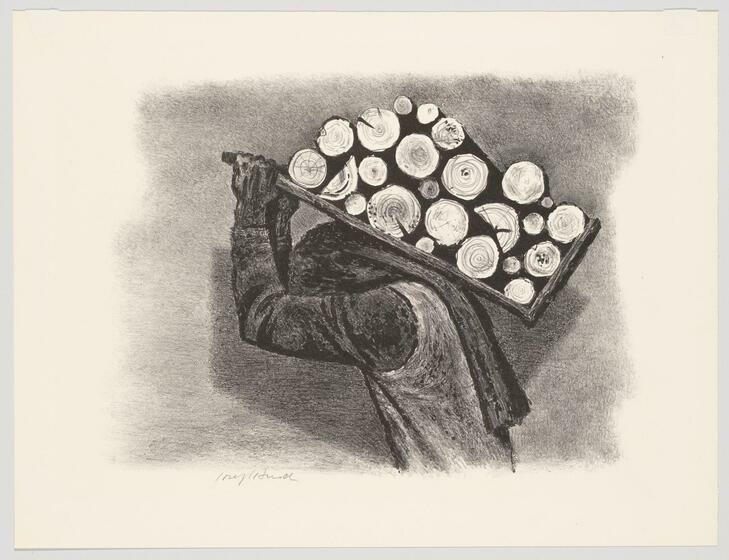 Joseph Hirsch (American, 1910-1981)
Man with Logs, 1954
Lithograph, 16 x 19 inches
Label for Adults – A talented artist from a young age, Hirsch celebrates the heroism in everyday humanity in Man with Logs. Careful etching of details gives us beautiful shadows – look at the folds in the clothes and the shadow cast from the wood haul. The gritty texture adds a realness to the work that, combined with Hirsch's expert skill, highlights the beauty in ordinary tasks and people that we pass every day, most often without notice.
Label for Kids – Man with Logs is an everyday man doing an everyday job. Look at the strain in the man's hands, the curve in his neck. People are beautiful in their everydayness, in their ordinary habits – if we look closely. Even the pile of cut wood displays pretty circles.
Catalogue entry – Born April 25, 1910 in Philadelphia, Pennsylvania, Joseph Hirsch started pursuing art at the young age of 17 with a scholarship to the Pennsylvania Museum School of Industrial Art. During World War II, Hirsch worked as an artist-correspondent for the Navy. Paintings and drawings he produced for them now hang in the Museum of Military History. His artworks also reside in major museum such as the Metropolitan Museum of Art. The artist passed away on September 21, 1981 in New York, NY.
Hirsch had formal education in Philadelphia, studied under George Luks, and traveled widely. The artist observed the world around him, inspiring many of his artworks. Man with Logs showcase Hirsch's talent in realism and his interest in ordinary people carrying out their tasks. Hirsch's deep shadows, texture, and detail, like the strain in the hands, are part of what marks him a master artist.
Sources Consulted
Joseph Hirsch, Kiechel Fine Art, kiechelart.com/artist/joseph-hirsch/
Joseph Hirsch, The Annex Galleries, http://www.annexgalleries.com/artists/biography/1026/Hirsch/Joseph
Joseph Margulies (Austrian, 1896-1984)
Meditation, 1973
Etching, 7.25 x 10 inches
Label for Adults – Margulies is a Vienna-born artist who immigrated to the US at an early age. He had a passion to create art and make it accessible to ordinary people, producing soft etchings like Meditation. He creates high contrast through line and tone, especially in the deep folds of cloth and the weighty curls of hair. A talented printmaker and painter, Margulies' soft etchings are a brilliant example of the skillset he mastered.
Label for Kids – Meditation is created with thick and thin lines. Look at the creases in his eyes, in the waves of hair – this detail is done with lines. The artist uses these lines to create depth and contrast – there are many lines, but we can see how each section are different.
Catalogue entry – Born in Vienna, Austria in 1896, Joseph Margulies became one of America's great portrait artists. Immigrating to the US at an early age, Margulies studied at the Art Students' League in New York from 1922 to 1925 where he learned from Joseph Pennell. He later attended the National Academy of Design and Ecole des Beaux Arts in Paris. The artist died in New York City, in 1984.
From etchings, to lithographs, paintings to drawings, Margulies mastered a variety of mediums. Margulies was commissioned to create portraits of presidents and other high class people; some of his artworks are displayed at the Metropolitan Museum of Art and Smithsonian American Art Museums.
Meditation is a great example of Margulies' mastery in printmaking. This soft etching gives viewers an intimate look at the elderly man; the intricate linework, the varied tones and even the depth in his hands create a beautiful artwork with a complex medium.
Sources Consulted
Joseph Margulies, Art of the Print, http://www.annexgalleries.com/artists/biography/1026/Hirsch/Joseph
Joseph Margulies, Smithsonian American Art Museum, https://americanart.si.edu/artist/joseph-margulies-3110