As a component of the exhibition, A Chicken in Every Pot and Affordable Art in Every Home, group curated by Dr. Slipp's Spring 2021 Museum Studies class, student were assigned two prints each. They researched the artworks and wrote catalogue entries and labels for adults and children. Sticking to a tight word count, students produced different kinds of writing for different audiences.
The texts below were authored by AUM student Autumn Thaggard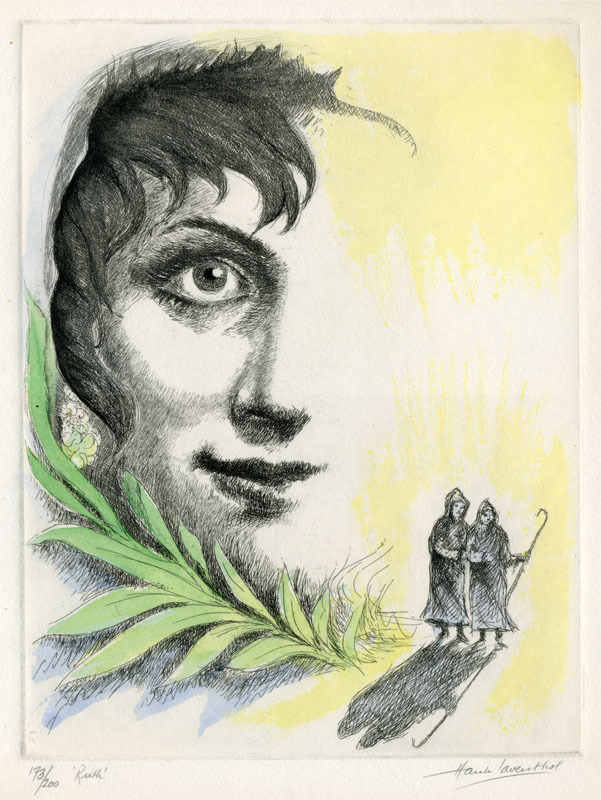 Hank Laventhol (American, 1927-2001)
Ruth, 1965 Etching (color), 11.75 x 9 inches
Label for Adults – Ruth is a fine example of etching, a technique utilized here to create depth and give shape to the woman's face. This etching is done in a Neosurrealist style that became popular during the 1970s. The style is represented in the dreamy aspects of the seemingly unrelated images and colors. The visible etching in this print showcases the hand of the artist in the work. Ruth likely represents Ruth from the Bible, who was known for her kindness and loyalty.
Label for Kids – Ruth is an etching that shows a lady's face, a leaf, and two small cloaked figures. Green, yellow, gray, black and white are the main colors in this print. What do you think of when you hear the name Ruth?
Catalogue entry – American painter Hank Laventhol was born on December 22, 1927 in Philadelphia, Pennsylvania. He received his B.A. in Fine Arts from Yale University and did his post graduate studies at Columbia. At 32 he enrolled at the Academy of Fine Art in Florence, Italy and exhibited in major cities during his ten years in Europe. While he trained as a sculptor he worked in other media like painting, print making, drawing and photography.
After his return to the U.S., he produced etchings and color aquatints including for the AAA. As a master printer, he was dedicated to his printing process, owned presses, and printed his own limited-edition prints. The amalgamation of influences that inspired him shows in Ruth with its elements of surrealism.
Sources Consulted
Hank Laventhol, RoGallery, https://rogallery.com/artists/hank-laventhol/
Hank Laventhol, http://hanklaventhol.com/Hank_Laventhol/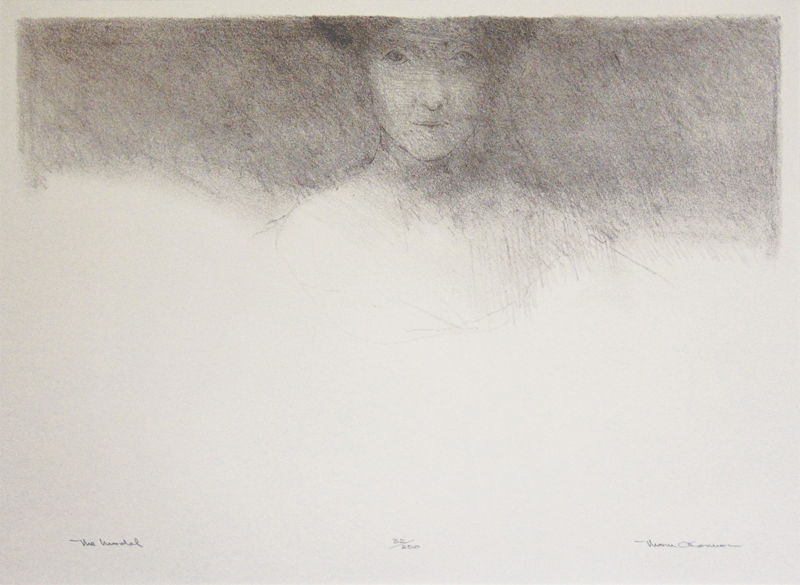 Thom O'Connor (American, b. 1937)
The Model, 1974
Lithograph (color), 8.5 x 12.5 inches
Label for Adults – By the time Thom O'Connor created The Model in 1974 his works were already in numerous permanent museum collections and major exhibitions. O'Connor's fine printmaking skill is on display here in the subtle rendering of the model. The work resembles an unfinished sketch with the stark contrast between the upper and lower parts of the print. In the white space there are faint lines. This gives the print an air of mystery.
Label for Kids – The Model is a lithograph depicting a single person from the shoulders up. Light and dark shades create the subject of the print. What does the white space resemble? Have you ever modeled for anyone?
Catalogue entry – Born in Detroit, Michigan in 1937 by the time Thom O'Connor was 31 he was an accomplished printmaker. After graduating from Florida State University and Cranbrook Academy of Art, O'Connor went on to exhibit in Associated American Artists' New Talent in Printmaking in 1965. His works are in the permanent collections of MoMA, the Philadelphia Museum of Art, the Library of Congress, the Detroit Institute of Art, and the Butler Institute of American Art. He has received numerous awards such as the Printer Fellowship and Fullbright Award. O'Connor used his knowledge and love of printing to teach others as a Professor in Printmaking at the State University of New York Albany from 1962 to 2000.
The Model demonstrates his mastery and love for printing. His attention to detail is present in this lithograph, which resembles a photograph and a sketch at the same time. A photograph is shadow and light similar to the shading in The Model. This aspect is subtle but effective in creating a finite figure.
Sources Consulted
"The Materials and Techniques of Drawings and Prints," https://www.metmuseum.org/about-the-met/curatorial-departments/drawings-and-prints/materials-and-techniques
"Thom O'Connor," http://www.oxfordgallery.com/Contemporary/oconnor