As a component of the exhibition, A Chicken in Every Pot and Affordable Art in Every Home, group curated by Dr. Slipp's Spring 2021 Museum Studies class, student were assigned two prints each. They researched the artworks and wrote catalogue entries and labels for adults and children. Sticking to a tight word count, students produced different kinds of writing for different audiences.
The texts below were authored by AUM student Lee Rives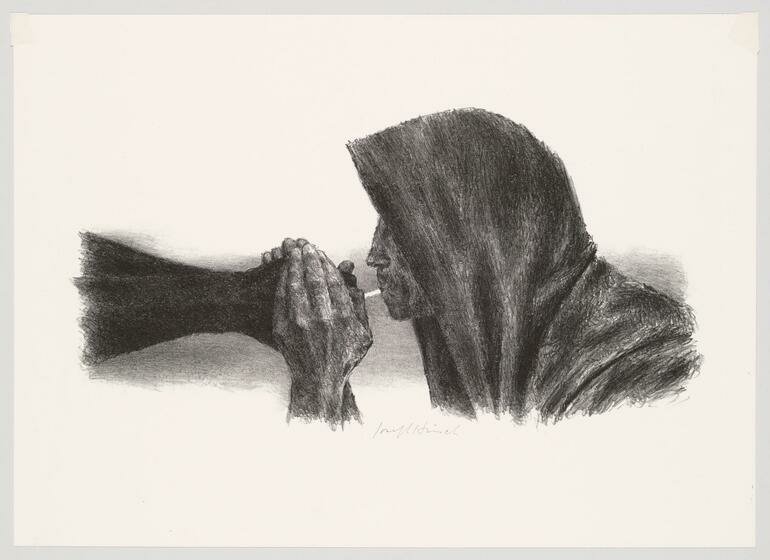 Joseph Hirsch (American, 1910-1981)
Survivor, 1954
Lithograph, 10.5 x 14.5 inches
Label for Adults – Hard times are all too common, as evoked by this grizzled figure. Someone who knew this well was artist Joseph Hirsch, whose work shows a concern for the everyman. One can easily imagine this man in the soup lines of the Great Depression or as a down-on-his luck Korean War veteran. While he appears white, the hands offering a light are dark. Survival is all about connection and cooperation, the work suggests, signaling the cultural shift marked by the Civil Rights movement of the 1950s
Label for Kids – Everyone gets down on their luck now and then, as this lithograph shows. It is made by drawing onto a surface, then dipping it in water, covering it with ink, and pressing the image to paper to create a print.
Catalogue entry – The son of a physician born in 1910 to a Philadelphia physician, Joseph Hirsch was of German-Jewish heritage. Hirsch was an artist well versed in various medias from a long artistic career, but most of his many works for the Associated American Artists collection were lithographs.
Hirsch contributed over forty lithographs to the AAA catalogue between 1944 and 1974, focusing mainly on individuals and their lives, ranging from intimate nudes to street scenes to court scenes. The harsh black and white lines of his lithographs present a meticulous eye for detail and shading, even in such a simple element.
Survivor shows a hooded man leaning forward to have a cigarette lit by a shadowy hand. His face shrouded by the rough fabric of a hood, the main details visible to the viewer are his work-roughened and lined hands, alluding to strength- both of will and character.
Sources Consulted
John Castagno, Jewish Artists: Signatures and Monograms (Rowman & Littlefield, 2010), p. 209
"Joseph Hirsch (1910-1981)," Naval History and Heritage Command, accessed 19 February 2021
Joseph Hirsch, "Oral history interview with Joseph Hirsch," interviewed by Paul Cummings, Archives of American Art, November 13, 1970.
Gregory Masurovsky (American, 1929-2009)
Sardi, 1973
Etching, 9.5 x 8 inches
Label for Adults – Everyone loves their pet! In fact, this is one of several Masurovsky portraits of Sardi. This etching shows a mastery of the technique, from the thinner – and therefore paler – scruffy details of Sardi's fur to the thicker – and therefore darker – background. Masurovsky's skill at texture and movement is on full display here, with Sardi's lively form taking up most of the small frame. His eyes seem to twinkle with mischief and ears twitch with energy.
Label for Kids – Dogs are man's best friend, right? This etching certainly shows a good boy! A protective coating is put on a metal plate and scratched away in certain places before acid is applied, which "etches" in the desired image. Ink is applied and the plate is pressed to paper, creating the image.
Catalogue entry – Born shortly after the start of the Great Depression, Masurovsky's life was shaped by this era. Most of his early life was spent in the Bronx, moving often due to his family's financial difficulties. He studied at the High School of Music & Art and Black Mountain College before joining the military and serving in the Korean War as a medic. He would later go on to teach drawing at the Minneapolis College of Art & Design, the American Center in Paris, and several art schools in Paris.
Masurovsky contributed twelve etchings on various subjects to the Associated American Artists collection from 1966 to 1981. One of his largest sets was a collection portraying elements of Carl Sandburg's poetry. However, Sardi is a stand-alone piece, portraying a dog gazing intelligently at the viewer. Through variations of depth and width of line, Masurovsky creates a sense of coiled energy and affection.
Sources Consulted
"Gregory Masurovsky," Black Mountain College Project, accessed 19 February 2021
"Artist Biography & Facts – Gregory Masurovsky," askART, accessed19 February 2021