As a component of the exhibition, A Chicken in Every Pot and Affordable Art in Every Home, group curated by Dr. Slipp's Spring 2021 Museum Studies class, student were assigned two prints each. They researched the artworks and wrote catalogue entries and labels for adults and children. Sticking to a tight word count, students produced different kinds of writing for different audiences.
The texts below were authored by AUM student Peyton Guri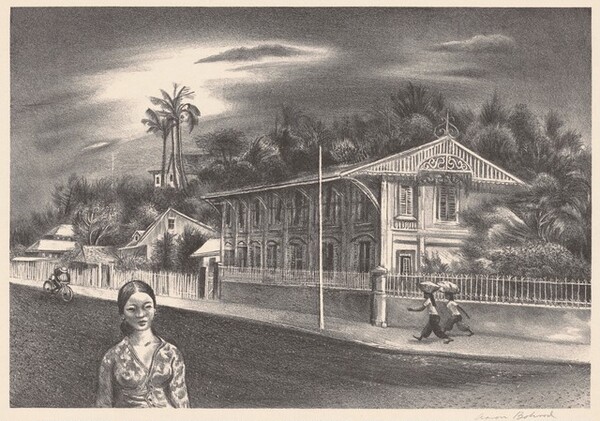 Aaron Bohrod (American, 1907-2012)
Street in Noumea, 1949
Lithograph, 9 1/8 x 13 5/8 inches  
Label for Adults – Known as the master of painting optical illusions, Aaron Bohrod was born and raised in Chicago where he would later study at the Art institute of Chicago and then The Art Students League in New York City. During World War II, he worked as an artist-correspondent in the army for Life Magazine in the South Pacific where Bohrod was inspired by the busy streets of Noumea. In 1953, Bohrod's subject matter evolved from his award-winning landscapes to still life paintings and lithographs.
Label for Kids – Street in Noumea shows the busy streets of Noumea, New Caledonia in the South Pacific. A woman stands in the foreground greeting us. What do you think the woman will say to us? What do you think the two figures behind her are carrying?
Catalogue entry – Born in 1907 in Chicago, Aaron Bohrod studied at the School at the Art Institute of Chicago and Art Students League of NY. He was heavily influenced by teacher John Sloan and pictured themes that involved his environment. Street in Noumea shows Bohrod's interest in portraying the life of everyday people.
In 1939, Bohrod began making prints for Associated American Artists, where he and other artists also received commissions from the American Tobacco Company. Both Street in Noumea and his advertisement for the American Tobacco company portray individuals at work, and how labor is different from one country to the next.
Bohrod died in Wisconsin in 1992. Like other artists in the Associated American Artist group, he created art for all Americans to have in their homes. Bohrod's works can be found in various public collections, such as the Metropolitan Museum of Art, the Library of Congress, and the Museum of Fine Arts, Boston, just to name a few.
Sources Consulted
"Aaron Bohrod: Biography." ACA Galleries. Web. 21 Feb. 2021
"Aaron Bohrod: D. Wigmore Fine Art." Aaron Bohrod | D. Wigmore Fine Art. Web. 21 Feb. 2021
"Aaron Bohrod." Aaron Bohrod | Artists | Modernism in the New City: Chicago Artists, 1920-1950. Web. 21 Feb. 2021
William Patterson (American, b. 1941)
Four Artists, 1972
Sepia and Buff Etching (proof), 5.5 x 4 inches
Label for Adults – William Patterson was born in 1941 in Albany, New York. He attended the Hartford Art School and Syracuse University, where he studied as a painter and a printmaker and later became a faculty member at Hartford. The portraits in Four Artists are in actuality four separate plates and were printed one at a time. For a number of years, Patterson taught at the University of Massachusetts; today he resides in Texas.
Label for Kids – This etching displays four portraits of artists Aubrey Beardsley, Claude Debussy, Gustav Mahler, and Oscar Wilde. We see their names underneath their pictures. Beardsley is an illustrator, Debussy and Mahler are music composers, and Wilde writes plays. Have you heard of these artists before?
Catalogue entry – Printmaker and painter William Patterson was born in 1941 in New York, and became one of many artists in the Associated American Artist organization. He produced a number of etchings for the Associated American Artists.
In Four Artists, we see portraits of four different artists. Aubrey Beardsley who is an illustrator, Claude Debussy who is a music composer, Gustav Mahler who is also a music composer, and Oscar Wilde who is a playwright. The etching of these portraits creates a somber tone and all but one of the man's faces look past you. Each of these artists are related due to being a part of a movement called Symbolism, meaning that they believed their works should symbolize something, or have meaning behind the subject.
There is not an abundance of information on William Patterson, but what scholars do know is that he played a role in bringing American Art to households nationwide.
Sources Consulted
"William Joseph Patterson (1941 – )." Brier Hill Gallery. Web. 21 Feb. 2021
Four Artists." Four Artists by William Patterson | Annex Galleries Fine Prints. Web. 21 Feb. 2021